Robot feeder product introduction:
【Customize Feeding Time and Amount】This automatic pet feeder provides flexible meal portions from 1 to 20 portions per meal, 5g for every portion, and the container capacity is 3.5L.
【Voice Recording Remind】With voice recorder and speaker, this feeder can record your voice for 12 seconds to call your puppy or kitty for meals. Your personal sound will keep your pet not alone and not miss the meal when the food is ready.
【Accurate Meals Per Day】After setting the food volume for each meal, the accurate food volume will help your pet keep a good habit to eat at regular hours, and keep diet.
【Built-in IR Induction】This automatic pet feeder built-in infrared sensor, when the bowl fills the size of the dry food that exceed 1 cm³, the machine automatically stops, preventing the pet food from clogging or overflow.
【Backup Batteries Supply】The feeder can be powered by power adapter or 3 type D batteries (Batteries not included).The battery can keep the feeder working, no worry about power issue when you are not at home or holiday.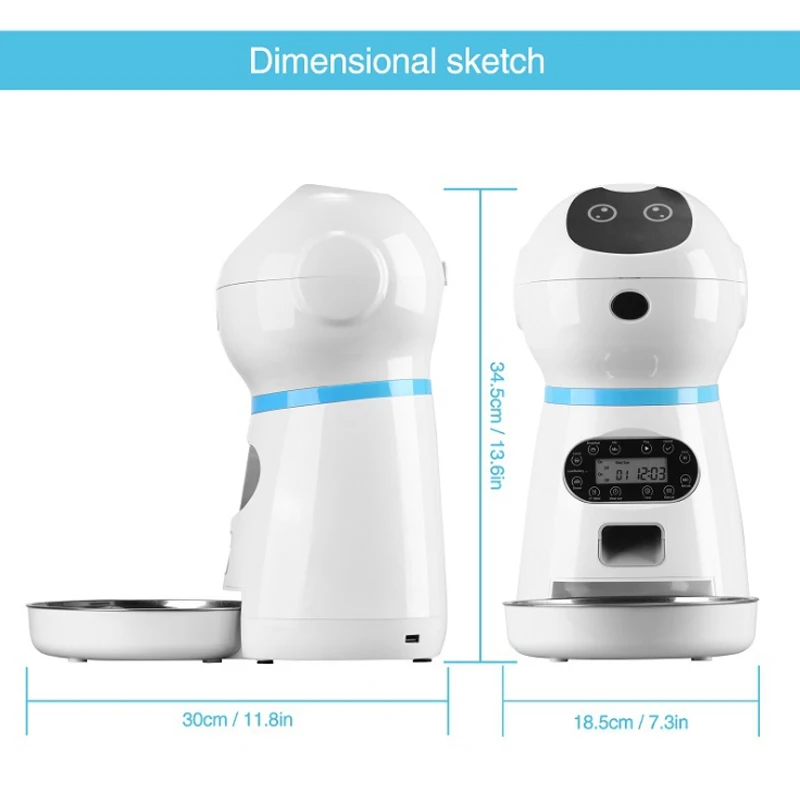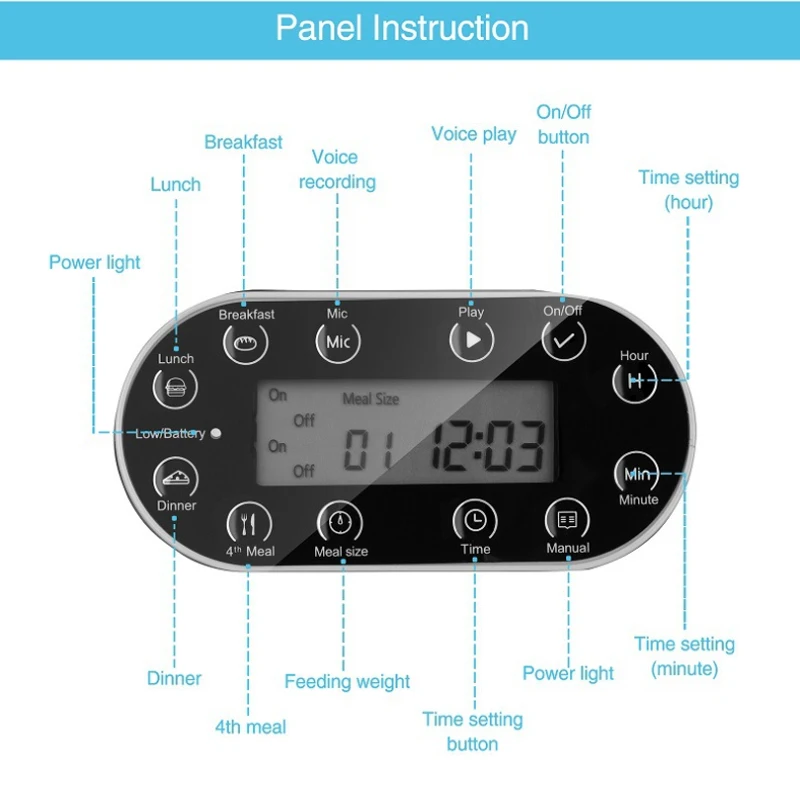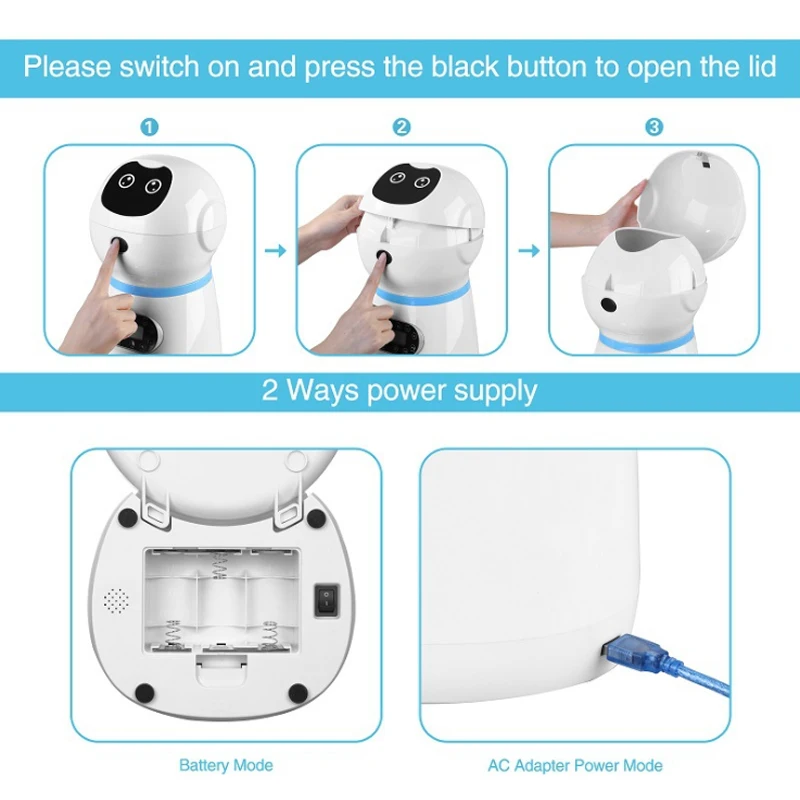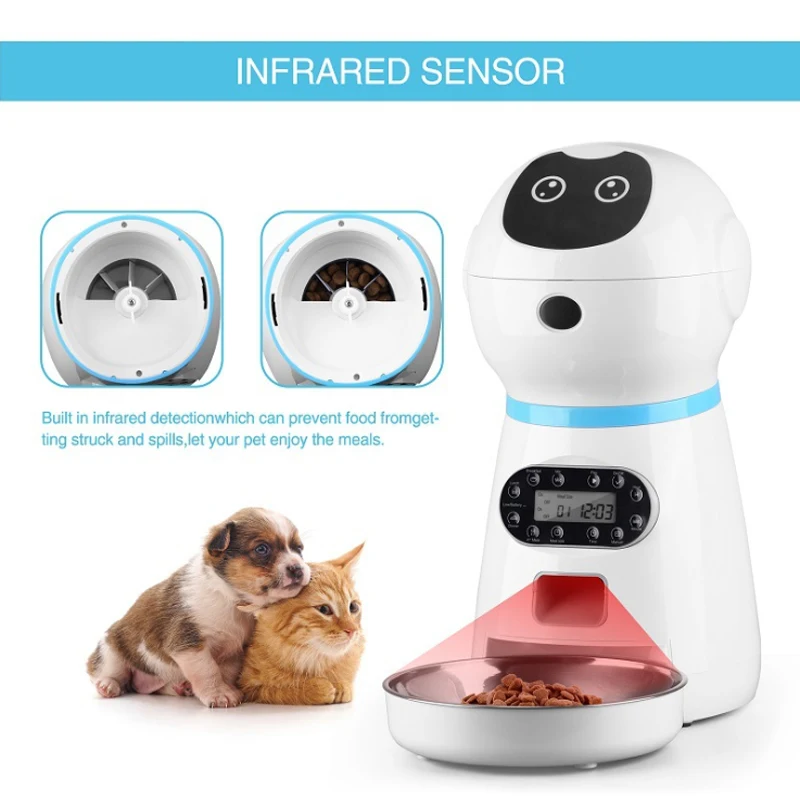 Seven gr
Six grid feeder product introduction:
The product is made from food grade materials and is harmless to humans and pets.

Timing device, adjust pet dinner time within 24 hours, don't worry if the owner will feel hungry when the owner is out.

6 grids, 6 meals design, you can pre-set 6 different times for 6 meals, put 6 piles of rice into 6 grids.

Simple and generous appearance.

Suitable for dogs and cats.
Color: as picture shown

Material: ABS, stainless steel, electronic components

Bowl grid: 6

Battery: 3*AA battery  (not included)

Function: music reminder

Suitable for: cats, dogs, rabbits and other pets.
1. Pull the lid to open the food cover.
2. Add the food in the feeder.
3. Press the lid to close the food cover.
When you press the power button to shut down,the time of screen flashes for ten seconds and disapears.
ON/OFF: Power Button-turn on and off timing display.
SET: Toggle Button-Switch brtween hours and minutes.
HOUR(+): Increment Button:Inncrease the time parameter and spare.
NIN(-): Decrease Button:Reduce the time parameter.